Locations
Diacore Concrete Cutting Ltd is a Chartered Building Company specialising in all aspects of the diamond cutting of concrete and other selective demolition techniques. We pride ourselves on a positive attitude towards our client's needs and requirements.
Diacore Concrete Cutting Ltd was established in 1993, and has been a member of the Drilling & Sawing Association for many years. Diacore Concrete Cutting Ltd has built up a solid reputation for reliability and professionalism with over 25 years' experience in the industry.
Diacore Concrete Cutting Ltd offers a professional and reliable service in all the disciplines of the Concrete Cutting sector of the Construction Industry including: Diamond Drilling, Diamond Track and Wall Sawing, Diamond Floor Sawing, Hydraulic Bursting and Crunching, Robotic Demolition, Wall and Floor Chasing and Concrete Repair services.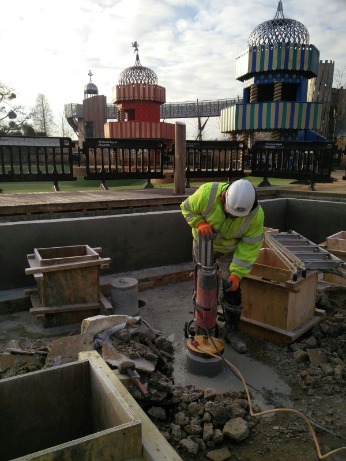 Diacore Concrete Cutting Ltd is proud of its in-house training and development policy. All of our Operatives are NVQ Level 2 qualified and CSCS certified many of our directly employed operatives have been trained up by our own experienced supervisors and operatives. We use the most up to date and reliable machinery and operate a rolling investment program in our equipment to ensure that we are at the forefront of our specialist industry sector.
Located in Staines, Middlesex we are well placed to serve London, Bracknell, Aylesbury, Portsmouth, Oxford, Reading, High Wycombe, Southampton, Woking, Slough, Basingstoke, Watford, Crawley, as well as all other regions in the Home Counties and South of England.