Diamond Drilling solutions in READING
Diacore Concrete Cutting Ltd works for construction companies of all sizes throughout London, the Home Counties and South of England regions. Diacore Concrete Cutting Ltd has already completed projects for a variety of clients all of whom have different requirements and every time Diacore's Services have met them.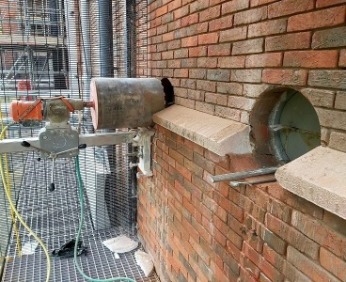 If you are looking for Diamond Drilling solutions in Reading, Diacore Concrete Cutting Ltd will have the solution for you.
Reading, the county town of Berkshire, is a large University town. Approximately 40 miles west of London, it is served by the Great Western Railway line and the M4 motorway.
Reading's documented history dates back to the 8th century. Reading grew rapidly in the 19th century when the Great Western Railway arrived and Reading soon became a manufacturing centre. Currently, it is ranked as the United Kingdom's top area for economic success and wellbeing when factors such as health, income and employment are considered. Reading is a major retail centre and has been placed 16th in a poll of the best performing retail centres in the UK. Although Reading is regarded as part of the Commuter belt it has a larger inward daily migration than outward due to its importance as a commercial centre. Several major companies have their headquarters in Reading. There is also a significant involvement historically with the IT industry and various technology companies with are distributed around Reading and in business parks such as Green Park Business Park , Thames Valley Park and Arlington Business Park.
Office accommodation is in plentiful supply close to Reading's railway station in the centre of town. There is an increasing demand for Grade A office space which has prompted various new developments and refurbishments of existing buildings.
Reading hosts an annual Music Festival, one of the largest and oldest festivals in the UK. Reading has two football Teams and is home to London Irish rugby union team.
Diacore Concrete Cutting Ltd works strictly in line with our Health and Safety Policy which ensures that Diacore's Services are carried out efficiently and safely. With a qualified, skilled and experienced team, Diacore's Services are sure to have the solution you are looking for. No matter if it is Diamond Drilling, Diamond Track & Wall Sawing, Diamond Floor Sawing, Hydraulic & Chemical Bursting, Robotic Demolition, Wall & Floor Chasing or one of our many other services , Diacore Concrete Cutting Ltd will provide a cost effective solution.
Speak to one of our experts in diamond drilling and controlled demolition today on 01784 456013, or message us through our REQUEST A QUOTATION form.