Diamond Drilling in Slough
Diacore Concrete Cutting Ltd works for construction companies of all sizes throughout London, the Home Counties and South of England regions. Diacore Concrete Cutting Ltd has already completed projects for a variety of clients all of whom have different requirements and every time Diacore's Services have met them.
If you are looking for Diamond Drilling solutions in Slough, Diacore Concrete Cutting Ltd will have the solution for you.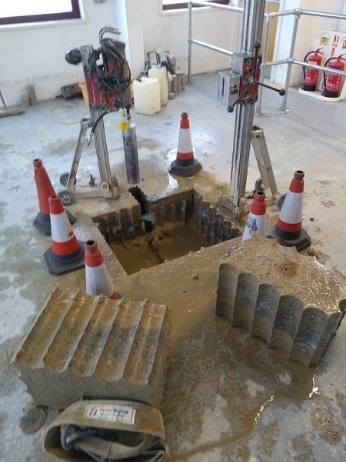 Slough is one of the largest towns in Berkshire and is served by the M40 and M4 motorways. The Great Western railway line passes through Slough and the Elizabeth line is expected to facilitate faster journeys into London. Slough is also very close to Heathrow airport.
Slough is one of the most ethnically diverse towns in the UK. Attracting labour since the 1920's has allowed Slough to become a major trading centre. Apart from London, Slough has the largest concentration of business Head Quarters. The motor trade has had a heavy presence in Slough. Citroen located its assembly plant in Slough until 1966 when the premises was taken over by Mars Confectionery.
Slough's town centre has had major redevelopment in 21st Century with projects such as "The Heart of Slough" creating a focus for culture and creative media. However, redevelopment on such a large scale has been frowned upon buy conservation groups as large amounts of quality housing have been demolished, along with art-deco factories. Ford built cargo Lorries in Langley, which was previously a site for Hawker Aircraft. This site was redeveloped for housing in the 1990's. Slough now homes offices for Maserati, Fiat, Ferrari and Mercedes. In 2016 it was recorded that Slough had the second highest property price growth.
Diacore Concrete Cutting Ltd works strictly in line with our Health and Safety Policy which ensures that Diacore's Services are carried out efficiently and safely. With a qualified, skilled and experienced team, Diacore's Services are sure to have the solution you are looking for. No matter if it is Diamond Drilling, Diamond Track & Wall Sawing, Diamond Floor Sawing, Hydraulic & Chemical Bursting, Robotic Demolition, Wall & Floor Chasing or one of our many other services , Diacore Concrete Cutting Ltd will provide a cost effective solution.
Speak to one of our experts in diamond drilling and controlled demolition today on 01784 456013, or message us through our REQUEST A QUOTATION form.