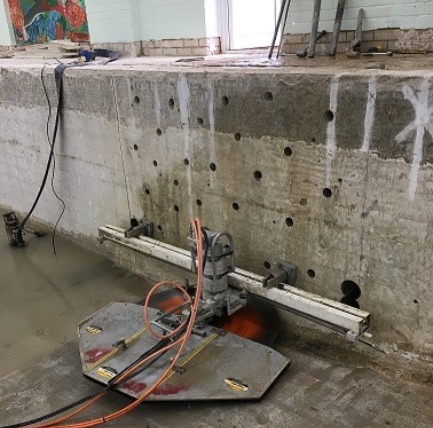 CONTROLLED DEMOLITION
Diacore's Controlled Demolition Services can involve a designed package of all aspects of our specialist operations: Diamond Drilling, Wall and Track Sawing, Wire Sawing, Concrete Crunching and Bursting or Robotic Demolition. Diacore can advise on and carry out all aspects of Controlled Demolition including the dismantling of brickwork or concrete structures in areas such as working offices, warehouses and factories or indeed any area where noise, dust and minimal disruption is demanded.

Diacore will ensure the safest and most economical method of work will be undertaken, ensuring that thorough surveys are carried out and full consultation is made on every aspect of your requirements, ahead of a professional delivery by our skilled team. We only employ fully qualified and certified operators with extensive experience in Drilling, Sawing and Demolition operations using the very best in modern equipment.


We can ensure exceptional workmanship even when working in confined spaces, at height, or even on the London Underground we ensure exceptional workmanship, safety and customer service on every one of our Controlled Demolition Services projects. Diacore is proud of the expertise within in our team, the safe and skilled provision of our services is a priority to us, accredited and qualified to a range of standards including IOSH, CSCS, PASMA and LUCAS with extensive training in working at height, manual handling and confined spaces.