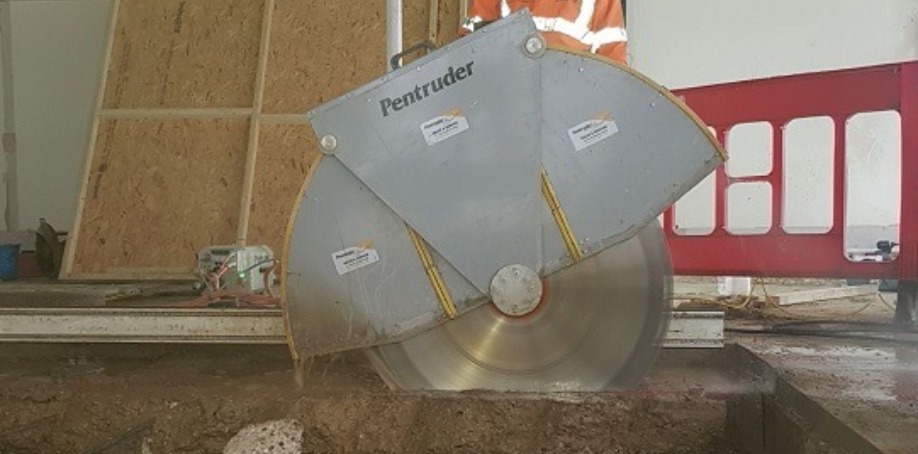 DIAMOND TRACK AND WALL SAWING
Diamond Track Sawing and Diamond Wall Sawing is one of the most flexible operations we offer. The Diamond Track Saw uses a diamond impregnated blade, mounted to a Saw Head which in turn is mounted onto a track fixed to the structure to be cut, thus Diamond Track Sawing is able to facilitate the cutting of Floors, Walls, Stairs and Soffits.
The Diamond Track Saw is remotely controlled and provides a fast, neat method of forming larger openings using as many cuts as required to form openings of virtually any shape or size. Diamond Track Sawing can also cut flush to a surface making it ideal for use for the precise cutting of openings for:
Door and Window Openings
Lift Shaft Openings
Vent/Louvre Openings
Expansion Joints
Demolition Lines
Water control can also be employed when Diamond Track Sawing should this be required to enable work to be carried out in live office, factory and storage locations.
Diacore takes pride in delivering an exceptional standard of workmanship, efficiency, value engineering and attention to detail on Diamond Track Sawing and all our Diamond Drilling. We provide Specialist Diamond Track Sawing and Diamond Wall Sawing service for Local and National Building Contractors, Property Developers, Plumbers, Electricians and Private Individuals from our base in Middlesex. We are well placed to serve London, the Home Counties; Surrey, Middlesex, Hertfordshire, Kent, Essex, Thames Valley; Berkshire, Buckinghamshire, Oxfordshire, Wiltshire, and South of England; Hampshire, West Sussex, East Sussex, in which over the past 24 years we have built up a solid reputation for reliability and professionalism.