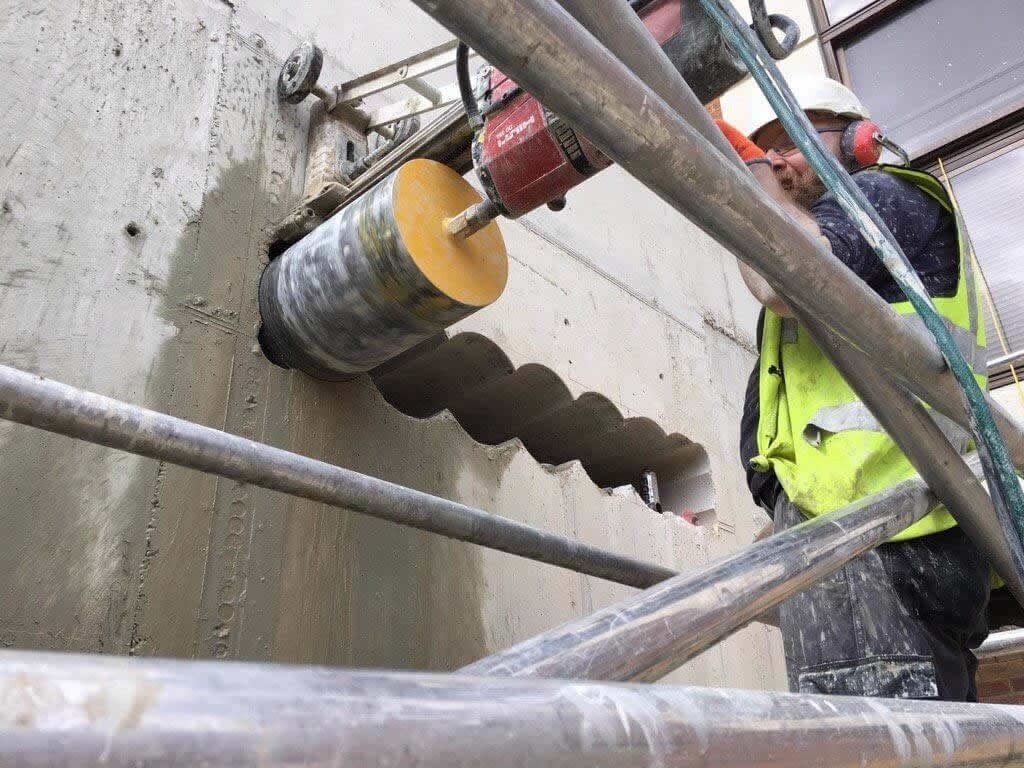 Diamond Drilling is the ideal solution for quickly forming openings; holes or slots into all types of mass and reinforced concrete, brickwork and blockwork. Diamond Drilling is a quiet, efficient and non-vibratory method of forming holes where a quiet operation is required, and if spalling of the concrete is to be avoided. Diamond Drilling techniques also reduce the risk of HAVS.

Diamond Drilling uses water to reduce dust levels and to help lubricate the cut, which in turn reduces noise levels. Water control, in conjunction with Diamond Drilling, can also be employed should this be required to enable work to be carried out in live office, factory, film set and storage locations.
We provide Specialist Diamond Drilling Services for Local and National Building Contractors, Property Developers, Plumbers, Electricians and Private Individuals from our base in Middlesex. We are well placed to serve London, the Home Counties; Surrey, Middlesex, Hertfordshire, Kent, Essex, Thames Valley; Berkshire, Buckinghamshire, Oxfordshire, Wiltshire, and South of England; Hampshire, West Sussex, East Sussex, in which over the past 24 years we have built up a solid reputation for reliability and professionalism.
We can use Diamond Drilling to form holes of up to 600 mm diameter with a single Diamond Drilling Core bit and the use of standard equipment for services such as electrical cables, pipework & HVAC installations, or employ stitch Diamond Drilling techniques to form larger holes, also Diamond Stitch Drilling can be used to form irregular openings for ductwork, stairways and lift installations etc. Diamond Drilling will also be used to avoid over cutting during our Diamond Floor Sawing or Diamond Track Sawing operations.

Diamond Drilling to depths of 5 metres is not uncommon and with the use of specialist rigs deeper holes can be formed.

A full Diamond Drilling and testing service is also available with analysis for strength, carbonation, structural integrity etc.