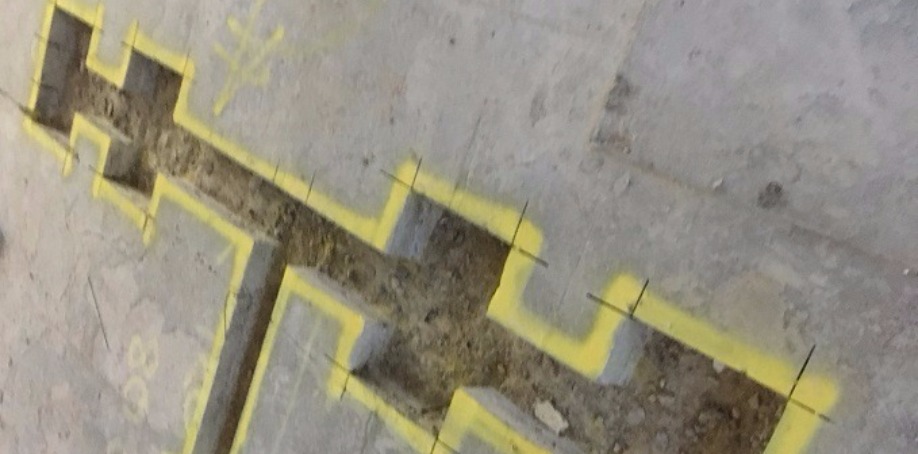 WALL AND FLOOR CHASING
The use of both diamond and abrasive blades are used to carry out Floor and Wall Chasing. This enables the precise depths and widths to be formed in Brickwork, Blockwork, Plaster, Render, Concrete or Screeds to form Chases for Conduits, Pipes, and Trunking etc. for Plumbing and Electrical installations. We also have the requisite skills base to carry out the precise cutting of stone/brick sections for feature work, corbelling etc. We are also able to engineer decorative or aesthetic design requirements. We can also undertake the cutting of tuck-in for lead and asphalt or the formation of expansion joints. Dust control is also an option for this work sector.
Diacore is proud of the expertise within in our team, the safe and skilled provision of our services is a priority to us, accredited and qualified to a range of standards including IOSH, CSCS, PASMA and LUCAS with Extensive Training in Working at Height, Manual Handling and Confined Spaces.
With over 25 years' experience in the Diamond Drilling and Concrete Cutting industry, Diacore Concrete Cutting Ltd ensures a professional job is completed efficiently and on time.
Diacore Concrete Cutting Ltd is a Chartered Building Company and a member of the Drilling and Sawing Association, assuring the highest quality standards. Diacore Concrete Cutting Ltd has an exceptionally comprehensive Health & Safety Policy and a qualified, skilled and experienced team.
For your wall and floor chasing requirements, Diacore Concrete Cutting Ltd is located in Staines, Middlesex, well placed to serve London, Guildford, Woking, Slough, Windsor, Maidenhead, Marlow, High Wycombe, Uxbridge, Reading, Wokingham, Bracknell, Basingstoke, Kingston upon Thames, Camberley, Farnham, Farnborough Redhill, Crawley as well as all other regions in the Home Counties and South of England.