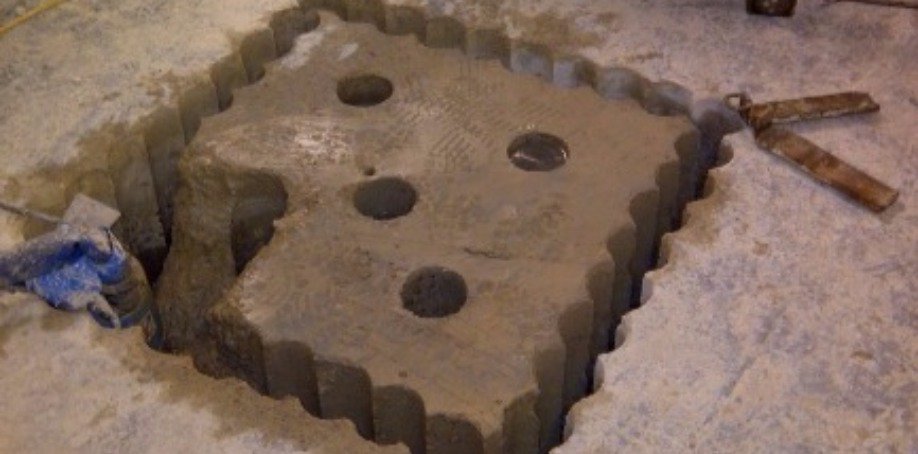 HYDRAULIC AND CHEMICAL BURSTING
Hydraulic bursting and Chemical Bursting uses a planned induced fault line in masonry, brickwork or concrete. A line or pattern of holes is Diamond Drilled into the structure to be removed to form a plane of weakness along the desired line of breaking. A Hydraulic Burster or Expanding Grout is then used in each of the holes to induce a cracking into the structure and this bursts the concrete along the pre-planned line or pattern, thus eliminating or greatly reducing the breaking operation.
CONCRETE BURSTING
Concrete Bursting is particularly suited to thicker masonry, brickwork and concrete structures such as footings, bases and especially on heavily reinforced concrete metres thick. Hydraulic bursting can also be used on natural stone. Hydraulic Bursting works well in confined spaces and when precise, controlled demolition and removal is an essential requirement.
With over 25 years' experience in the Diamond Drilling and Concrete Cutting industry, Diacore Concrete Cutting Ltd ensures a professional job is completed efficiently and on time.

Diacore Concrete Cutting Ltd is a Chartered Building Company and a member of the Drilling and Sawing Association, assuring the highest quality standards. Diacore Concrete Cutting Ltd has an exceptionally comprehensive Health & Safety Policy and a qualified, skilled and experienced team.
For your hydraulic bursting and chemical bursting requirements, Diacore Concrete Cutting Ltd is located in Staines, Middlesex, well placed to serve London, Guildford, Woking, Slough, Windsor, Maidenhead, Marlow, High Wycombe, Uxbridge, Reading, Wokingham, Bracknell, Basingstoke, Kingston upon Thames, Camberley, Farnham, Farnborough Redhill, Crawley as well as all other regions in the Home Counties and South of England.